Isewlation Mini Mystery
This Will Be Fun!
Each week enjoy a Mini Mystery Quilt tailored to you! Beginning Wednesday, we will start our Mini Mystery Quilt series. Each mini quilt will be tailored to you. You can let us know what you like by clicking HERE to view the form. Fill out the form and email it to us at info@foxcitiesquiltco.com, or you can just call us and we can do it for you. Each Mini Mystery Quilt can be used as a table topper or wall hanging. We would love to show you the first two we have done but . . . It's a Mystery! The cost is just $15 per week and you can start or stop anytime you choose! Just give us a call! Available for vestibule pick up or we can mail it to you.


Sale Still On!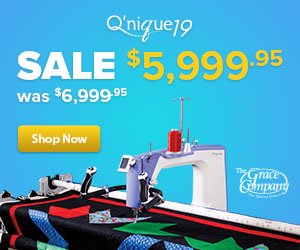 Save $1,800 on this combo! Guess what . . . Quiltmotion Software is also on sale 30% off! Holy stitching!



1400 W. College Avenue
Appleton, WI 54914
920-939-3989
Hours: Monday thru Friday: 10:00 a.m. - 5:00 p.m.

Sat: 9:00 a.m. - 3:00 p.m.

Sun: Closed

Click to visit Fox Cities Quilt Co!