Second Saturday BOM
Are you signed up? There's only a couple spots left! The first three blocks are already in the shop. Stop by and see. This is just $3.00 per month if you come for the demo. Just $6.00 per month if you can't make the demo. This is a really great price for a Block of the Month Program.
Paper Piecing Class
We've schedule another one! Don't miss this class on March 21st and see how to make those extra intricate quilts. It's not as hard as it looks and our instructor is the BEST! Click to sign up

HERE

.

The Essential Tote
So many have been asking for a bag class and here it is! This is a five-hour class and at the end you should be finished or close to finished by the end of the class. Sign up for this class on March 31st by clicking

HERE

.
Free Motion Quilting . . . The Basics and Beyond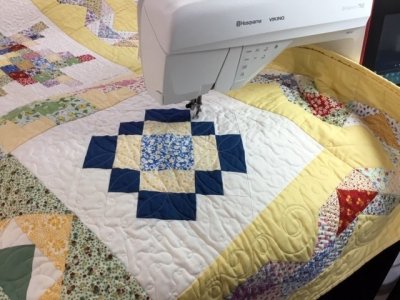 Take your quilts to the next level and sign up for this April 2nd free motion quilting class. Sign up

HERE

.
One Last Note
During these trying times of Coronavirus and COVID-19, we have taken extra precautions to make your brick and mortar store shopping as safe as possible. We are following health guidelines as closely as possible to make sure that you, your families, our employees and their families, are all safe and comfortable.
We are wiping down solid surfaces many times throughout the day. There is hand sanitizer available for use in the store. We are making sure that those frequently touched things (credit card machine, cutting tables, rulers, rotary cutters, etc. are cleaned frequently.
If you want or need anything, please keep in mind that we are also open 24 hours a day online. You can choose a "pick up in store" option. If you call ahead, we will have your purchase ready for you and would be happy to bring it to your car. If you can't find it online, call us and we will help. All shipments are $5.00 and we will refund all shipping costs for orders of $50.00 If you want your block of the month programs and kits, call us. We can process credit cards over the phone.
Also, if you want to shop when no one is in the store, call us and we will make an appointment for you to be alone in the store to shop.
We will all navigate this together so that we can all get through this healthy. If you need anything, do not hesitate to reach out to us.