So Much Fun It's Spooky!
Halloween Spooktacular!





Come by for an extra free day of open sewing (and, it's our late night!). Come in costume and receive a spooktacular discount. We can't tell you what it is here, because it's just too frightful for words!



Classes!
Youth Scrappy Quilt Class



In this class, students will learn from start to finish how to piece a beginner quilt. Skills they will learn and improve upon are: determining a layout, sewing with a seam allowance, piecing rows, pressing seams when piecing, creating a "quilt sandwich", stitching in the ditch, prepping and applying a binding. This is the perfect class for beginners of all ages and junior sewists who have completed our sewing program. Sign your student up by clicking HERE. Parents and grandparents are welcome!


Cinnamon Lodge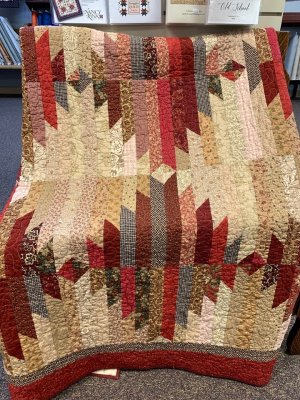 Come sit, sew and learn how to use up some scraps in this all-day class. Sew simple and sew fun! Class includes all day instruction and ruler to complete the project. Sign up HERE.


Holiday Open House


Don't forget our Holiday Open House this Saturday, November 2nd from 9:00 a.m. to 4:00 p.m. Did we mention . . . there's a spectacular Viewer's Choice Quilt Show.

Oh yeah, and the red envelopes are back!


1400 W. College Avenue
Appleton, WI 54914
920-939-3989
Hours: M, T, W, F: 9:30 a.m. - 5:30 p.m.
Th: 9:30 a.m. - 7:00 p.m.
Sat: 9:00 a.m. - 3:00 p.m.

Sun: 11:00 a.m. - 2:00 p.m.

Click to visit Fox Cities Quilt Co!