Christmas in July . . . The Sequel
We're Doing it Again!
Okay, so we're going to try Christmas in

July

August! Did you miss our Christmas in July celebration due to the awful weather, tornadoes, topping trees, power outages? It was like armageddon! Well, here's your chance to get in on the fun. We are doing the same fantastic hourly prizes as we did for our Christmas in July, except this will be on August 24th! We have the great 30+ new samples as we did PLUS, we will have even more! Stop in August 24th from 9:00 a.m. to 3:00 p.m.
COUPON BOOKS!




You have until the end of August to pick up this year's coupon book! There are some AWESOME deals. Complete your book and there's an extra coupon for 20% off any item of your choice PLUS you will be entered to win 50 FREE fat quarters!


T-Shirt Quilt Class




We scheduled a class for this weekend! Sign up HERE.


GET ON THE BUS!




Seats are filling quickly for our bus trip to Quilt Expo on September 6th. Price includes transportation to Quilt Expo, driver gratuity and a ticket for admission. Seats are filling fast, so don't miss the chance to get door to door service. Information and reservation can be made by clicking HERE.


Sue Spargo Classroom Series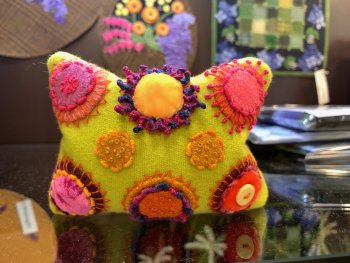 Bring your wool handwork to life by learning those incredible Sue Spargo stitches. This is a two session classroom series that will teach you how to prep your project in the first session and how to stitch your project in the second. Sign up for the class by clicking HERE. Price includes everything you need to complete your project.



1400 W. College Avenue
Appleton, WI 54914
920-939-3989
Hours: M, T, W, F: 9:30 a.m. - 5:30 p.m.
Th: 9:30 a.m. - 7:00 p.m.
Sat: 9:00 a.m. - 3:00 p.m.

Click to visit Fox Cities Quilt Co!