A Cornucopia of Projects
Back from Market!
So we don't overwhelm with all the great finds, we are showing you one at a time the new projects we have coming in the shop. There will be many, so stay tuned! Below is one of the first ones:
FRESH CUT BLOCK OF THE MONTH!
This 13-month project will allow anyone to join in this journey of creative embroidery where you will create interest in each block by piecing or layering these backgrounds with fabrics and stitchery. Your garden of vases will be filled with flowers, leaves and berries appliquéd in a multitude of mediums, then enhanced with embroidery in a vast array of fibers differing in type and weight. Select vases will include optional advanced stitchery to enhance each garden and challenge you creatively. Kit includes: Hand-dyed wools for backgrounds, borders and applique, velvet and presto sheer, cotton fabrics for applique, block and border overlay, ribbons, binding and label, A registration fee of $25 will be required to sign up for this one, but will be taken off the cost of the blocks over the project. Cost is $49.95 per month, and begins in February The entire finished project will be in the shop in January!




BLACK FRIDAY DEALS!






Oooohhhh, The Deals! Stop in and see what we've marked down for you! They are just too good! Not sure what you want? Just grab a gift card. On Black Friday, purchase a $50 gift card and get a $5 bonus card. Purchase a $100 gift card and get a $10 bonus card. (Gift cards are not good on classes.)




Small Business Saturday





Can't stop by Friday, no worries! There's even more going on on Small Business Saturday. Come join us.

For just $9.95, you can get your own make and take cuddle infinity scarf. We are including instruction, machine and a FREE pattern! In 20 minutes you can walk out the door with a gift for yourself or someone special. See the picture below.


NEW CLASS ADDED! BEGINNING MACHINE APPLIQUE!
Saturday, December 1st from 10:00 a.m. to Noon. Grab one of those really cute pre-cut and pre-fused kits we have in the shop and we will get you stitching right away! Betty will teach you the basics of machine applique. You will have great fun while learning this technique that brings your quilts, bags, towels and anything else to a new level of interest. To sign up, just click

HERE

and we'll get you stitching in no time!
Stargazing Block of the Month
Due to the high demand, we are opening this project up for more people! The stunning 13-month program will begin in January and finishes 92 x 92. Made with New Aged Muslins, this quilt will immerse you in the not quite solid muslins that give this project great movement. Made with easy piecing techniques, so it's even good for a confident beginner. The cost will be $15.95 per month.




NEW!!! BENCH PILLOW OF THE MONTH!!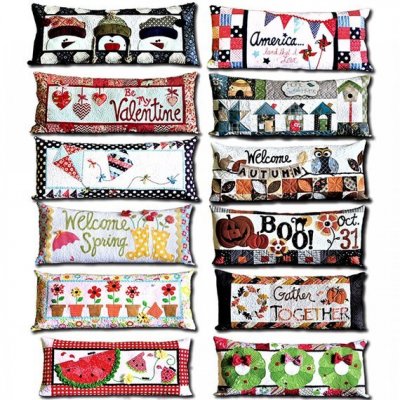 Aren't these cute? Start by making one large "bench pillow" form. Then change out a new cover for that pillow form for each season or holiday! This is the idea behind a new line of patterns for interchangeable bench pillow projects. Instructions for making the pillow form is included with the pattern. Finished size: 16 x 38". Kit includes perfectly pre-cut and pre-fused applique pieces and all the fabric needed to make the front of the pillow cover. Each are made with cotton print fabrics, and Heat 'N' Bond Lite fusible. These would look great on the back of your couch or chair .....make one the month before and have it ready to display for the appropriate month. Once you get all 12 of them made....you can simply use them over and over. Begins December 1st and the cost each month is $49.95. There's a limited number of spots so hurry to get yours!


1350 W. College Avenue
Appleton, WI 54914
920-939-3989
Hours: M, T, W, F: 9:30 a.m. - 5:30 p.m.
Th: 9:30 a.m. - 7:00 p.m.
Sat: 9:00 a.m. - 3:00 p.m.

Sun: 11:00 a.m. - 2:00 p.m.
Click to visit Fox Cities Quilt Co!