Christmas in July
Coupon Book Bonanza!
Coupon book still available until July 31st. The coupon book contains deals for each month for a year. These deals add up to over $100 in savings. Complete your coupon book and be entered into a drawing for 50 free fat quarters! That's a $150 value. Cost of your coupon book is only $10. Coupon book sales begin July 1st and can be purchased all month long. First coupon is for the month of August.
Tales of a Fourth Generation Textile Executive
SOLD OUT!!!

Didn't get a seat? No worries. Make sure you come to the shopping event!!

Date: July 25, 2018
3:00 p.m. to 5:00 p.m.
Come early for the best selection!
Here's the exciting details:

Over 300 new and current releases of fabrics will be in the shop. All will be short bolts of 8 yards or less. The price will be $9.00 per yard. You must take the whole bolt or split with friend(s). First come, first served. Come early for the best selection.
Check your UFO's. What a great time to get your backing!
Barn Quilt Workshop


SOLD OUT!! We will repeat the class again in October. Watch the newsletter for the October date!

Betty's Away Quilt Retreat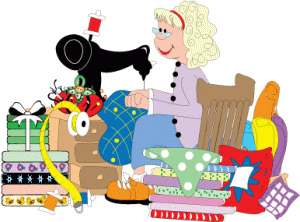 Judy is having a Quilt Retreat while Betty is on her European river cruise. Come join her for two days of in-store stitching, prizes, and some special fun that she has planned for you. Hourly specials planned just for those in the retreat. Price includes lunch on Saturday. Spots are filling fast! Click HERE to sign up!
New Mystery Block of the Month
Love the French General? So do we! Some of the beautiful Moda French General fabrics make up this year's Mystery Block of the Month. Last year's Mystery Quilt filled up fast! This one will too. Plus, you will receive an additional four bonus projects FREE! Begins in September. Price will be coming soon!!
Quilt Expo Bus Trip!
ONLY 12 SEATS LEFT!! DON'T DELAY
We will have a motor coach going to Quilt Expo on Friday, September 7th. The cost per passenger will be $40, which includes motor coach to and from Quilt Expo, admission to the event and driver gratuity included. Click HERE to reserve your seat on the bus!
1350 W. College Avenue
Appleton, WI 54914
920-939-3989
Hours: M, T, W, F: 9:30 a.m. - 5:30 p.m.
Th: 9:30 a.m. - 7:00 p.m.
S: 9:00 a.m. - 3:00 p.m.
Click to visit Fox Cities Quilt Co!